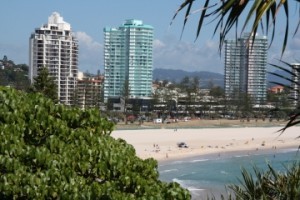 Coolangatta is Queensland's most southerly coastal town. Located on the border, near its twin town of Tweed Heads, Coolangatta is approximately 100 kilometres south of Brisbane and is the perfect spot to enjoy a relaxed coastal lifestyle with the excitement of Surfers Paradise only 30 minutes away.
The Coolangatta region boasts three pristine beaches – Coolangatta, Greenmount and Rainbow Bay. Patrolled by two surf clubs, these are the Gold Coast's only north facing beaches and are popular for swimming and surfing. In addition, the famous surfing beaches of Kirra, Snapper and Duranbah are only minutes away.
Offering safe sandy beaches, access to major shopping centres and world class licensed sporting and recreational clubs, Coolangatta often lures visitors back permanently.
The astute buyer has a diverse range of housing to choose from, including luxury high rise apartments with spectacular ocean views and older three storey walk-ups and duplexes. Due to many of the houses in the area dating back to the 1960's, the area has seen much in the way of renovations, extensions and even demolitions making way for new dwellings. There have been some newly constructed high-rise developments, including Essence, Ocean Blue and Reflections, which are all taking shape.
Residents have good access to medical facilities, schools and retiree services.
The area is also well known for its weekly markets providing shoppers with an opportunity to purchase handmade local arts and crafts, a wide variety of fresh produce and delicious food.
With the exception of Coolangatta Primary School, educational requirements are serviced by neighbouring suburbs. Local transport to and around Coolangatta consists mainly of buses or private motor car, with the nearest rail service at Robina. Road access to the north and south is easy, by following Coolangatta Rd to the Pacific Highway.
Activities
Coast Prayer & Worship every 1st Fri of the month at 9–11pm (Qld time) at CWA Hall in Griffiths St, Coolangatta (next to McDonalds). Come together with likeminded people & pray. Ph Corinne 0434 671101 for info.
New vogue dancing at Coolangatta Senior Citizens Centre Thurs 9am & Fris & Sats 6.30pm–live music. Classes Thurs from 1.30–3.30pm (Qld time). Join this happy group & have fun while learning to dance. Ph (07) 5536 4050 or call into the centre, 2 Gerrard St, Coolangatta.
Qigong classes Mons 12.30–1.30pm & Thurs 8.30–9.30am. Qigong is part of traditional Chinese medicine, using relaxed, slow & rhythmic movements & controlled by the mind. Suitable for all ages. Coolangatta Senior Citizens Centre, Gerrard St. Ph (07) 5536 4050.
Tent on the Beach… Are you Looking for a place to meet Christians out of the Church building? Want real relationships with real people? Believe He is God of this City and Greater things are yet to come. Come to Tent on the Beach at Coolangatta Beachfront (next to SLSC, opp KFC, by bbqs. For info call Corinne 0434671101.
Tutors U3A Coolangatta-Twin Towns is looking for tutors. Teach a subject close to your heart. Anyone interested can ph (07) 5599 2249 or visit the office at Suite 305, Coolangatta Place, 87 Griffith St, Coolangatta Mon to Fri 8.45am–noon.
U3A Twin Towns Inc. classes, Coolangatta, Tugun & Tweed Heads for men and women looking for a variety of activities – social get-togethers every second Wed in the month called 'tea & talk with interesting speakers. Classes in science, Australian history, language classes, computers, tap, belly and line dancing classes, singing for pleasure, book club, art & craft, yoga & exercise, digital photography, mahjong, scrabble & more! We want you … and teachers of all kinds. Ph (07) 5599 2249.
U3A Coolangatta-Twin Towns classes for people interested in staying healthy. From light exercise, yoga, belly dancing, tai chi, line dancing, 'movement to music' & tap dancing. For further info ring the office between 8.45am & noon on (07) 5599 2249.