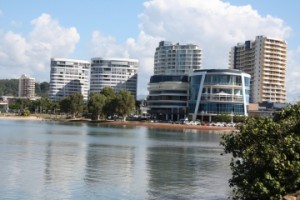 Tweed Heads is as far north as you can get in NSW, with the town abutting the Queensland border, and turning into Coolangatta on the other side, with both known as the Twin Towns.
The major clubs that service the Tweed Heads district are the Twin Towns Services Club, Tweed Heads Bowls Club and Seagulls club. The area is easily accessed by air through the Gold Coast airport at Coolangatta which is only a short distance away. The Pacific Highway runs right through the town and there are regular coach services and it is very convenient for the drive market.
Whilst at Tweed Heads you should take time to explore the picturesque Tweed River, where you can see plenty of wildlife. Popular activities along the river include canoeing, fishing and kayaking. You can also hire a boat so that you can explore the river on your own for a relaxing day.
Whilst the area is a hotbed of activity, with tourism, shopping, surfing and some of the fastest residential growth in the state, this activity is nothing compared to the fireworks of some 20 million years ago, when volcanic action resulted in the largest caldera (volcanic rim) in the southern hemisphere.
Activities
Bereavement Support Group for people who have recently suffered a loss. In a relaxed & friendly atmosphere, the group offers professional support, addressing grief issues that arise. Ph the Tweed Palliative Support office on (02) 6672 8459.
Blind & Vision Impaired Support Group (NSW Far North Coast). Blind & vision impaired helping each other. Meet 1st Wed & 3rd Mon monthly. 10-pin bowling, play Bingo. Other outings. Transport available from Tweed. Volunteeers help with appointments etc. Ph Christine (02) 6679 1589 or Yvonne (07) 5513 0144.
Ability Incorporated Advocacy Service is a free & confidential service for people with disabilities, their families & carers. It offers support with any issues, info about other services & your rights & responsibilities. Open to all ages. Tweed Outreach Office (02) 6672 6119 or toll free 1800 657961.
Free Food Giveaway at the iBar, Tweed Heads, 12.30 DST Weds. Struggling pensioners are welcome to come for some food. We would love to have some more food donations please if anyone can help us. Ph Terri 0414 376 057.
Food Relief for aged pension card holders at the iBar, Wharf St, Tweed Heads. New time on Fris only from 9.30am–1pm (NSW time). Donations always required Contact Thelma (07) 5536 3037.
Justices of the Peace are available for witnessing signatures at the following venues – Tweed Centro Shopping Centre each Tuesday from 10 am – 2 pm and at Tweed City Shopping Centre each Thursday from 10am – 2 pm and 5 pm – 7 pm. For information call Margaret on 9070 55 99 2975.
Poets & Writers on the Tweed Tues at 1.30pm, Tweed Heads Library. Friendly, fun group helping reach goals. Ph Lorraine (07) 5590 9395.
Tweed Hospital Auxiliary meets in the Tweed Civic Centre 1st Mon of each month from 1.30pm. Contact June Young (07) 5559 5055.
Twin Towns Seniors Social Club Meets 2nd Mon of the month, Anzac Room, Twin Towns. Doors open 9am, meeting at 9.45am. New members ph Bev (07) 5536 2834.
Tweed Valley Digital Camera Club Participate online via Flickr. Critiques/technique exchange, articles & chat. tweedphotoclub@gmail.com
Tweed Bird Observers Club invites newcomers to its weekly or monthly bird outings. Learn to identify birds of the Tweed Valley while enjoying a bush walk.
Ph Laurel (07) 5590 9254 or Matthew (07) 5599 1757.
Chrysler Club of Tweed & Gold Coast meets at Burleigh Town Tavern 7pm first Wed each month. Ph Barry (07) 5524 1510.
Activities South Tweet
Blind Citizens Australia Tweed Valley branch meets on 4th Mon of each month in the Sth Tweed Sports club's Secret Garden rm from 10am to noon. Ph Ian (07) 5536 1491 or Bill (07) 5524 6147.
Euchre/500 Club Euchre Mons 7–10pm Sth Tweed Sports club, $2.50 visitors, $2 membership. 500 Weds 1.30pm; $2.50 to play. Ph Brian Garland (07) 5536 5618.
Asbestosis & Mesothelioma Support Group morning tea meetings at Sth Tweed Sports club's Secret Garden, 1st Wed of each month at 11am. All welcome. Info regarding asbestos-related conditions, ph Nick 0417 705534 or Tom (07) 5598 1896.
Indoor Carpet Bowls at Sth Tweed Sports club each Mon at 6.45pm & Sun at 9.15am. Ph (07) 5523 4014.
Medical Practice In Early Tweed Small exhibition Mat Tweed River Regional Museum, Pioneer Park, Kennedy Dr.. Museum open Tues, Thurs & Fris 11am–4pm & Suns 1–4pm. Schools & groups welcome by appointment. Enquiries (07) 5536 8625.
Photo Arts Club Tweed's Camera Club meets on the 2nd & 4th Wed at Sth Tweed Sports at 7.30pm. Tips & techniques. Ph Frank (07) 5599 9528 or view online www.photoartsclubtweed.org
South Tweed Senior Citizens Club meets on the 2nd Mon of each month at 1pm in Sth Tweed Sports club. Ph Betty (07) 5524 6365.
Tweed Area Computer Tuition (TACT) at Sth Tweed Sports club. Learn from senior tutors in a friendly atmosphere. Day & night classes. Sign-on days 1pm first Fri of each month. Call George (07) 5536 6639 or Leonie (07) 5599 3548.
Tweed Gold Coast Family History & Heritage Association's research rm at Sth Tweed Sports club is open Tues 10am–7pm, Wed to Fri 10am–4pm & Sats 9.30am–3pm. Ph Noelene Magrath (07) 5599 8939.
Twin Towns Day View Club meets on the 1st Thurs of every month at Sth Tweed Sports club. For bookings ring Freda on (07) 5524 1357.
Twin Towns Toastmasters Fun way to build self-confidence when giving a speech or presentation–meets 1st & 3rd Wed monthly, Sth Tweed Sports Club. 6.45pm for 7pm start. Learning in a friendly supportive environment. Ph Isabella 0438 192 254 or Robyn on (07) 5524 3893.
Twin Towns & Tweed Coast Prostate Awareness Group meets at Tweed City Shopping Centre on the first Fri of each month. Doors open 9am; meeting starts 10am. Ph Ross (07) 5599 7576.
Tweed Parkinson's Support Group meets on the 2nd Mon of each month in the Tweed City Common Rm at 9.30am. Ph Helen (02) 6676 2549 or Jill (02) 6674 3252.
Activities West Tweet
Computer Association Tweed Seniors meets at Seagulls on the 3rd Wed of each month at 10.30am (NSW time). Learn computer skills from other seniors. Joining days are on the second Thurs of each month at Seagulls. Ph Noelene (07) 5599 8939 Mon to Fri 9am–5pm. All welcome. w.w.w.catscomputerclub.yolasite.com